Here it is again, February 14, Valentine's Day.

Without fail it rolls around every year and without fail so do the subliminal messages at every turn of our heads. The message is there. Valentine's Day is about love and more often than not, it's about having someone to love. This year we-ask you to share that day with someone you love but only if you've first truly loved yourself.

Being able to love someone else means you've really succeeded in loving yourself. Which means you understand self-care. The beauty in these words is that self-care can mean so many different things to different people and we've chosen to honor that on this day.
If you are the type that never takes a break, has everyone in mind before yourself, then today is your day to focus on you. From the mother who is running around filling the role of taxi driver, personal shopper, gourmet (and healthy) chef to the business owner who is motivating a team of skilled employees to achieve their best results; today is your day to treat yourself.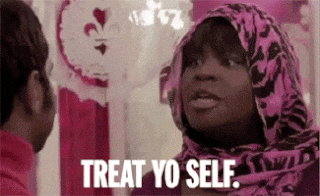 We at Hydrochic have built a brand based on this concept. We believe every woman should be comfortable and love what they wear, especially at the most vulnerable environments. Hydrochic apparel was designed to allow women to show self care at the beach, the pool and the gym. It goes without saying (we're going to say it anyway), you deserve to have a comfortable and beautiful outfit in each of those places.

If you can't take the time to make some grand gesture for yourself today, then try some of our tips to make you feel more loved, just for today.

Practice Acceptance: Learning to practice acceptance of ourselves allows us to see our strengths and abilities. When we force ourselves to see the beauty within, we will begin to see it more and more. For today if you allow yourself to be who you are and accept even one part, you can consider that some very powerful self-care.
Marie Kondo your space: Set some time aside to declutter the chaos of just one space that is bringing you down. Find the pile of clothing in the corner of your room or tidying up a space in your shared living area can mean the world for your mood. Out with the old and make room for the new!
Set your alarm: For bed! Tomorrow night, Valentine's Day will be the day that you are in bed by 10, or even 8 😲. If you can't make it to the spa this year, allow yourself to do something for your body by just going to bed a little bit earlier. It can be so hard to prioritize your sleep but a full night's rest certainly does the body good.
Eight cups of H2O: Just for today you will give yourself what it wants most, the proper fuel. Sometimes sleep is too large an obstacle so we suggest you treat your skin, hair, and digestion with some clean and powerful water.
Channel your gratitude: It may not be Turkey Day but a healthy dose of gratitude for the things you do or have can propel your self-care regimen. For just today choose something to be proud of, something that makes you, you!
If you have tips or ways that you treat yourself, we would love to hear (and share) them with our Hydrochic community. With all our hearts we wish you a warm and loving Valentine's day from everyone at Hydrochic 💙

What do you think?